A few weeks ago while I was working behind my computer I got distracted big time. In the corner of my eye an advertisement popped up screaming for attention….I realize that's what they are intended to do and it worked. It was showing Amazing round printed tablecloths! I do not own a round table, but couldn't resist to order a few right away (believe me it was hard to order only two as they had a wide selection in prints).
See, all I can think of when I see round tablecloths with a border print on it is: "Ow, that would make the most beautiful Circle Skirt!"
I wanted to share this with you sewers, just in case you have never thought of doing this before. Plus, they are extremely easy and fun to make. Bonus is the skirt length you can get out of them.  If I want my skirt to be 25″ (63,5 cm) long (which is the length of these two skirts) then I would need my fabric to be 63″(1,6 meter) wide. Good luck finding that in a fabric store!
Another advantage is that if you are lucky you can skip hemming all together. Neither one of these two skirts I hemmed, because they were already neatly finished. The cute little puffy balls on the peacock skirt below was part of the tablecloth edge. And now the nice hem-finish of my skirt.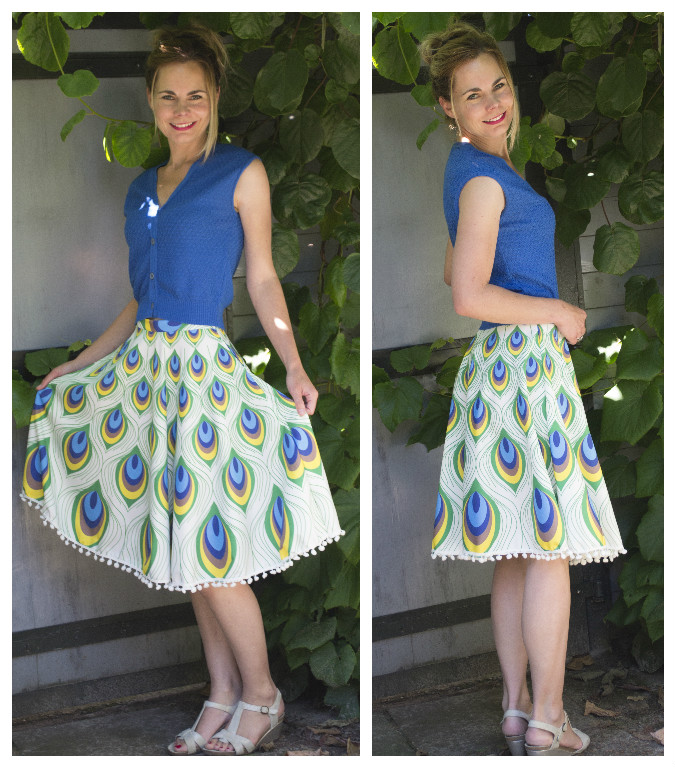 Last year I wrote this tutorial in Dutch, describing how to make a circle skirt to wear over your Daisy romper. Or to make a Daisy-dress by stitching the skirt to the top.
Well, surprise surprise…. This same free tutorial can be used for making your own circle skirt from a tablecloth.
And yes, it is now available in English as well. Yay!
(Both tutorials can be found on the Tips & Tricks page, scroll all the way to the bottom)
Have you made a tablecloth-circle-skirt before? Please share, I would love to see a picture and hear about your experience.