2016 is a year which we have worked on some big re-organization changes.
Working on internationalizing our business: we have switched to English and added the flexibility to order our patterns in a PDF (digital) format as well.
But there's more, 2 significant changes, I must share.
To make more room for collection development and to support our wholesale partners we have made the decision to sell digital patterns via our website and give our Stockists sole selling rights over our printed patterns.
Another change and you are going to like this one! The suggested retail price of the Printed Patterns is reduced to € 16,00. PDF (digital) patterns are € 12,00.
The idea behind these changes are (like mentioned above) to create more time for pattern development. As well as sharing creative ideas, tips & tricks, fun pattern hacks from either myself (yes, I also hack my own patterns) or you sewers, and more fun stuff.
Lowering the pattern price was a tough business call, as our cost price using recyclable products is high and development time and handwork is excessive and therefore quite costly. We don't want to change anything about this, because we believe in our product, our in depth fitting tutorials and the passion we put into every pattern. However, we hope by adjusting the selling price, more and more people will be able to enjoy Rosie & Me patterns and their sewing experience.
Now let's go back to living life creatively:
In the next upcoming weeks we will be working on something new!
Our first Seperates will be added to our collection.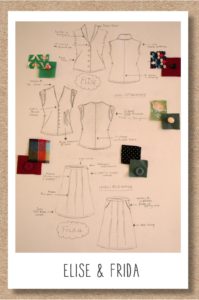 Here is a sneak peak of the ELISE blouse and the FRIDA skirt. Both wearable in any season. Depending on your choice of fabric and styling;
A breezy cotton or a more drapy viscose for ELISE in the summer, you can wear with a cardigan on colder days. Wear a wintery FRIDA in a wool blend with boots or a summery FRIDA skirt in a cheery fabric with sandals.
Levels:
ELISE – Intermediate
FRIDA – Beginner (Yes, finally a true beginners pattern!)
Release:
Expected end of November / beginning of December