Yes! We moved.
Which technically means 'me' moved!
But why, when, how? What?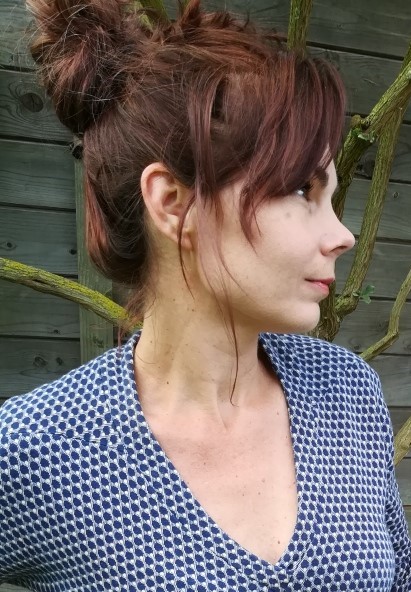 Four years ago, when I started Rosie & Me patterns, I was pregnant with our second daughter. Back then I loved the fact that I could work from home and completely be there for the girls. Being flexible in my working hours. And even though I absolutely feel fortunate that we managed to live our lives that way during these precious little-age-years, I did feel that I was running short with my business. I couldn't put the time and energy into it as I had in mind when I started. There were times that I completely had to let it go and focus on children on days that they were sick, or times that I was just so run down from not sleeping through the night (for years and years and years…). So I parked Rosie & Me on a very low burner occasionally, knowing I will get back to her when things got easier.
Secretly I started to count down to the day that Nova (the youngest of the two) would start school, giving me the time to work on the brilliant Rosie & Me plans and ideas that were piling up in my head. And…that day came. Nova started kindergarten this year, which… surprisingly… (where did this come from?) made me Sad! No more little ones at home, now it was just me! Where I expected to be thrilled and jumping up and down to welcome this new chapter in my life, I actually felt lost. Where to start? What to do? Which direction? I had been giving workshops here and there over the past years, teaching textile classes in schools. Should I continue teaching? Or should I solely focus on internationalizing Rosie & Me and building the collection? Even considered accepting a job proposal (which I didn't as Rosie & Me really is where my heart is).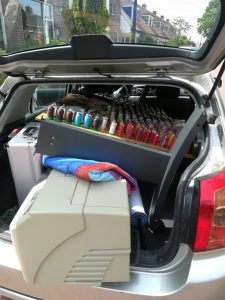 Clearly I didn't know where to go or where to start. It took some time, some cups-of-coffee with other self-employed moms and accepting from my side that this  was a transition period….I guess necessary to get where I wanted to go. And to be were I am now! In a new fresh spot! During my 'questioning-everything-period' I realized that I no longer wanted to work from home. What was ideal with little ones at home, was no longer working for me now. I love being around people, especially creative minds, that inspire, colleagues, I missed that. I wanted to leave the house,  go to work and to also make a more distinguished line between work and home. I shared my ideas with moms at school, talked to the city about creative hotspots that are in development in my town. One talk led to another, meeting some supportive people… and… in no time opportunities arose.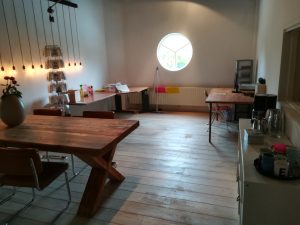 Within a few weeks me and Iris (a very talented illustrator) moved into an old furniture factory together. A place that is still in development, therefore it's a temporary spot, but perfect for now. There are some great, fun, and inspiring plans for this place. Which will bring new opportunities for some local Rosie & Me – ideas as well.
It's the perfect distance. I can bicycle to my work and drop the girls off at their school on the way there.
I love the place and to be with several creative self employed energetic people where we can share ideas, plans, direction. It brings just the right new kind of creative energy to build Rosie & Me from where I left it along the way. So happy to finally give Rosie & Me the love and time it deserves and to help spread the vintage-sewing-bug! So stay tuned for what is yet to come from Rosie's new headquarter 🙂