This Live Online Workshop will be given in both Dutch & English !
For Dutch see here, for English see below.
What are we going to do?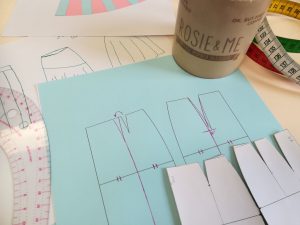 Preparations: Once you have paper, ruler, pencil and your favorite drink, we can begin!

   First, we will take measurements and draft a basic skirt pattern step-by-step. You can interrupt me at any time and ask questions as we go, just like any other workshop or classroom exercise which you actually attended in person.


   Once everyone has drafted a skirt, there will be a short break (for a quick bathroom stop or to refill your drink!)


   After the break, I will give a lecture in design. Here, I will explain the difference between shape and size. And present several skirt design variations. With this knowledge you will be able to turn your basic skirt pattern into a variety of skirt designs. Warning! This could result in a closet, filled with different skirt creations!


  Concluding the online workshop, you will receive the given presentation by e-mail. So you will have the opportunity to reread the given information at your leisure.
Note: The workshop is a pattern drafting & design class. This means that we will not actually sew the skirt during this workshop, and you can leave your sewing machine aside for now.
How does it work?
While signing into the workshop, you will have the choice to select the workshop in English or Dutch. These will be offered on different dates!
Once you placed your order, you will receive a pop-up which includes a download link. The link will also be present in your order confirmation e-mail.
After clicking on the link, you will receive a pdf file. Make sure to save the file.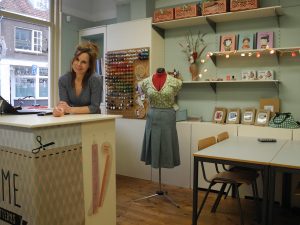 The pdf-file will contain the following information:


  The list of supplies which you will need to have present during the workshop (list also shown below).


  Confirmation of the date and time of the chosen workshop.


  And most important: the link to the meeting!
The workshop is a given as a live-stream video-meeting via Teams.
Note: You don't need to have Teams installed on your computer to be able to attend. After clicking on the link the streaming will begin.
As a reminder, you will receive the link to the online workshop by e-mail, on the day of the workshop.
Audience:
This workshop is suitable for anyone which has an interest in patternmaking and design. Some sewing experience is a plus, but it is surely not required.
Price:
€ 20,-
What supplies do you need?

  Large piece of (pattern) paper, approx.  70 x 70 cm / 28″ x 28″ inches.


  Straight ruler. If you happen to own a French Curve or Fashion Ruler, this is very handy. 


  Measuring tape


  Pencil & eraser


  Notebook & pen


  Last but not least: your favorite drink and a yummy snack!

Date and time:
When: Tuesday Feb 9th from 7.30 – 9.30 pm  Dutch Time (UTC +1)
Signing in:
You can sign in here, looking forward to meeting you online!